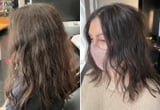 I, like many people, often find myself feeling stumped before going to the hair salon. I'm always in the mood for a change, but not too big of a change; something that's easy to style and low maintenance (because I hate doing my hair), but still has a wow-factor - basically, I'm every hairstylists' most annoying client ever. (Kidding . . . sort of.)
Over the years I've worn my hair all sorts of ways - long, wavy, straight, in a bob, with bangs (if we count the straight-across look I sported in the '90s and the side bang I regrettably had, like everyone else, in middle school) - but during my recent trip to Sally Hershberger Nomad Salon in New York City, I found myself wanting a completely different look.
I cut my hair into a bob a few months ago but the style had grown out, and my hair was looking, in my opinion, pretty plain. It was all one length and because I have loose wavy hair, all of the volume was at the ends. Luckily, my hairstylist Anabel Santos knew just what I needed: layers. She described the look she wanted to give me as "face-framing layers mixed with long-layers for more movement and body while keeping the perimeter full."
See how the transformation went for yourself ahead.