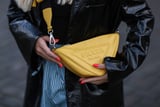 Neon-orange nails are perfect for year-round wear.
There are so many neon-orange nail ideas you can try.
We rounded up our favorite neon-orange manicures to use as inspiration at the salon.
While neon-orange nails are traditionally viewed as the perfect summer color, we're firm believers that you can rock this lovely shade all year round. There's no bad time to experiment with your manicure, and if there's one hue that reigns supreme when it comes to making a bold statement with your fingertips, it's orange. Neon-orange manicures are quite alluring, and the vibrant, fluorescent hue adds zing to any manicure. Whether you're a fan of almond, coffin, square, or any other popular nail shape, the options for rocking neon-orange nail designs are endless.
"Neon colors are taking over right now," Cardi B's manicurist, Jenny Bui, tells POPSUGAR. If you need further proof of this color's appeal, just look at Women's Wear Daily's list of popular New York Fashion Week fall 2022 runway colors - neon orange sits front and center. Additionally, Pantone's color-trend projections for the fall cite bright orange - or Pantone 16-1358 "Orange Tiger," as it calls it - as being the next big trend.
From sets featuring the classic french-manicure design to glittery nail art, see 25 save-worthy neon-orange nails ahead.