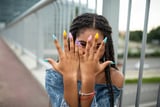 "Dopamine nails" are everywhere thanks to a recent fashion trend: dopamine dressing.
The manicure features bright, mood-boosting colors in finishes and designs that are personal to the wearer.
A professional manicurist explains the dopamine nail trend here.
It's not uncommon for the fashion and beauty trends to overlap, but the latest crossover will have you welcoming summer with open arms (and very well-manicured hands). Introducing: "dopamine nails."
This colorful nail-art trend has been making its rounds across social media in recent months, and its popularity is directly influenced by the rise in dopamine fashion over the last few months. Like the look it's inspired by, the execution of this manicure are totally up to the wearer's individual preferences. "The idea is to choose colors and/or designs that bring a rush of joy - like a hit of dopamine - specifically for you," Essie's global lead educator and nail artist, Rita Remark, tells POPSUGAR. "They may be on trend or they may not be, but if they genuinely make you happy that's the main point."
She adds that this can also be seen as a source of comfort during difficult times. "People are trying to temper the anxieties of 2020 and looking for lightheartedness and fun in all aspects of life, but especially in regards to beauty," Remark says. What better way to boost your mood than looking down at your hands and seeing your own personally curated shades of bright colors on each finger?
As for how you can get this trend at home, Remark's main piece of advice? Go bright or go home. "Choose bright, bold colors," she says. "Essie's summer trend nail polish collection is a hit of vibrant, happy hues like the hot pink shade "Isle See You Later" ($9), and the metallic lime "Tropic low ($9)." Nail stickers or even nail jewels can also be used for 'dopamine' nails. It's all about whatever makes you happiest."
If you're ready to try out the "dopamine" nail trend for yourself, take a look at some of the best inspiration photos below.