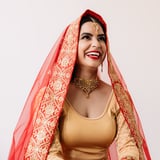 Indian culture is full of traditions, and that extends to weddings and the bridal makeup you wear.
Stunning brides like Priyanka Chopra serve as great beauty inspiration for Indian brides.
Whether you want to go full glam or keep it simple, here are some of the best Indian bridal-makeup looks you can try.
While most American women walk down the aisle on their wedding day in a white dress with a soft, romantic makeup look, Indian brides walk the aisle donning traditional outfits in vibrant colors with beaded embellishments, bold jewelry, stunning headpieces, and more. To complement such an eye-catching ensemble, more statement-making makeup looks are also typically worn.
We were schooled on the topic of Indian wedding makeup by a true expert, Karuna "KC" Chani, who is an acclaimed makeup artist specializing in Indian wedding glam. Ahead she's sharing some of her favorite ways to combine traditional Indian traditions and modern beauty trends into one stunning bridal-makeup look.
If you, too, want to wear a fusion of trends, she has some advice. "Definitely look at the latest American magazines and also the traditional Indian magazines," Chani tells POPSUGAR. "First and foremost, find an outfit that complements your skin tone. From there, the makeup has to enhance the outfit, not compete with it. You also don't want to match the outfit. You want to remain ethereal."
Keep reading to discover Indian makeup ideas for wedding season.