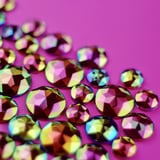 Channel those Y2K beauty vibes because the hair trend you never knew you needed has arrived. The gem hair stamper, which scatters crystals throughout your hair, is going viral on TikTok - and we are predicting it to be the beauty trend of festival season.
Irish TiKTok user Sophie Murray demonstrated how to use the hair stamper on social media, and the video has since gained a whopping 7.8 million views and almost a million likes. Followers were quick to comment they had purchased the contraption, known as the Blinger, at lightning speed to introduce some summer sparkle to their beauty regimen, while others reminisced that they had a similar gadget during the 90s and early aughts.
You can get your hands on the Blinger ($30) on Amazon right now, but we're warning you: the price has surged thanks to the high demand. There are still some of the bargain Blingers left at Walmart for $20 if you're quick.
While there's no denying we love the Blinger and wish we'd kept our childhood beauty toys into adulthood, there are a number of ways to accessorize your hair for maximum impact. Take a look at these TikTok hairstyles that will see you glisten this festival season.