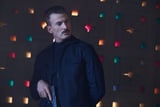 It turns out, "The Gray Man"'s cast is far more stacked than initially anticipated. In addition to starring hunky trifecta Chris Evans, Ryan Gosling, and Regé-Jean Page, the forthcoming spy thriller also features an equally buzzy celebrity: a new Evans mustache. The actor's prominent upper-lip hair is front and center in Netflix's trailer for the film, and my oh my, is it working for him.
In "The Gray Man," Evans portrays villainous CIA agent Lloyd Hansen, who hunts down Gosling's Court Gentry across the globe. His character's perfectly quaffed 'stache is accompanied by a slicked-back hairstyle that, for reasons we can't quite explain, only adds to his sinister vibe. (No disrespect to hair-gel users everywhere.) Despite his evil nature, it's hard to deny Evans still looks like a dreamboat as Hansen, even if you're not typically a fan of mustaches.
His facial hair is briefly a focal point in the trailer, which dropped on May 24. About midway through, Hansen and Gentry have a tense face-to-face interaction in which Gentry reveals that Hansen's so-called "trash 'stache" gave away his identity. "It leans Lloyd," he says before dropping a grenade on the floor between them. Ahead of the movie's release, Netflix played into the hype surrounding Lloyd's mustache by releasing stick-on replicas fans can purchase online - y'know, for Halloween costumes or everyday wear, if you're into that kinda thing. According to the online description, they're "freshly grown ad 100% groomed for your satisfaction."
Though Evans typically has either a clean-shaven face or a full beard, the actor famously ventured into the in-between territory of having a mustache for his Broadway debut in "Lobby Hero." In the 2018 play, he portrayed a police officer with a slightly more downturned, horseshoe-adjacent mustache that extended past his lower lip. In a New York Times profile published that same year, Evans likened the facial hair to a disguise, telling the publication, "People don't recognize me at all. I can look them right in the eye - it's like I'm invisible."
Other notable onscreen hair moments abound in "The Gray Man." In addition to Evans's mustache, Ana de Armas has a sleek bob with flipped-under ends, and Gosling rocks a thick beard. Read ahead to see all the glimpses we've gotten at Evans's "trash 'stache" so far, and get ready to watch Gosling and Evans go head to head with their respective facial-hair looks when "The Gray Man" hits Netflix on July 22.