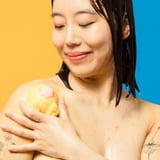 Lush's brand-new Easter collection may not come with edible chocolate bunnies, but it's filled with all sorts of other products that will make you nostalgic for Easter celebrations of years past. Fresh off the drop of Lush's Valentine's Day collection, the new Easter bath and body-care products are officially available to shop on the brand's website.
This year's lineup features 12 products in total, plus four gifts, all of which are a mix of Lush's signature bath bombs, bubble bars, and other bestselling body-care products. There's a bright-orange, lemon-scented Flying Carrot Bath Bomb infused with carrot powder; an Easter Bunny Bubble Bar that's gold and glittery; a body scrub called Down the Rabbit Hole that's shaped like a bunny's bottom; and even a funfetti-cake-flavored lip scrub. This year, Lush is also bringing back a few Easter favorites, including the Flamingo Egg Bath Bomb - a pink, egg-shaped, cotton-candy-scented bath bomb infused with Sicilian lemon oil.
Customers can buy the products separately or in specially themed gift sets either in store on online. Keep scrolling to see (and shop) the full Lush Easter collection.