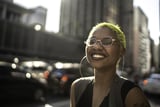 Deciding on a short, curly hairstyle can feel impossible.
However, curly hair is much more versatile than some may think.
Ahead, we asked professional hairstylists to break down the best short, curly haircuts and styles.
There's just something about spring that makes getting a haircut feel especially refreshing. It could be the promise of warmer weather - and knowing that shorter hair means not having to deal with stray hairs sticking to the back of your neck. It could also be the general idea of starting fresh with a new hairstyle. Whatever your reasoning, if you're looking for hair inspiration - especially if you have naturally curly or textured hair - you've come to the right place.
Believe it or not, there's a lot you can do with short, curly hair. Styles range from the bob (a tried-and-true style), the curly shag haircut (a gorgeous, effortlessly cool curly cut with bangs), and even a curly pixie (a chic, low cut that looks good on pretty much everyone). In short, whether you're long overdue for a haircut or just want a fresh look, you definitely have options. Ahead, we asked professional hairstylists to break down some of the most popular short, curly hairstyles.
Types of Short, Curly Hairstyles
Curly pixie
Curly bob
Curly "shift" haircut
Curly shag
"Disconnected" short, curly cut
Curly mullet