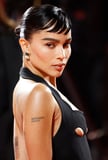 You might want to proceed with caution as you scroll through Zoë Kravitz's photos at "The Batman" premiere because her new bangs are razor sharp. On the red carpet in London on Feb. 23, Kravitz wore a Saint Laurent dress with bat-shaped underboob cutouts as a subtle homage to one of our favorite supervillains: Catwoman. But a quick peek at Kravitz's unusual fringe reveals another sneaky shoutout to Selina Kyle, and Kravitz's dedication to staying in character is undeniably impressive.
At first glance, Kravitz's side-swept micro bangs are confusing, giving us a beauty moment that's just as striking as it is stylish. Of course, just like Catwoman, Kravitz had another trick up her sleeve. The super-short hairstyle, styled by hairstylist Nikki Nelms, was neatly tucked back into a minibun at the back of her head, making this the perfect look for an undercover villain who might need to slip on her Catwoman disguise at a moment's notice.
Take a look at Kravitz's sleek, swoop bangs hairstyle - including her stunning side profile - from all angles here.