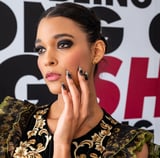 Rhinestone French manicures are trending for 2022.
The nail-art design appeared on the runway at Alice + Olivia's Fall 2022 NYFW show.
Celebrities like Dua Lipa, Lizzo, and Jennifer Lopez are also fans of crystal French tips.
We've seen just about every iteration of the French manicure imaginable since the nail design made a triumphant return - but one style in particular is proving to be a favorite at New York Fashion Week and beyond. At the Alice + Olivia Fall 2022 show, manicurist Gina Edwards created a dazzling crystal French manicure using Kiss products, and we can't help but think we have a new budding trend on our hands.
Edwards used Kiss Nail Art Rhinestones ($12) on a black nail-polish base to create the rhinestone-embellished manicures worn by the runway models. The tiny jewels were positioned at the tips of the nails (where white nail polish would traditionally be) to create the curved lines this manicure style is known for. The gems made for eye-catching nail art, adding an element of glam to the looks - but in a subtle, understated way.
This isn't the first time we've seen gem-covered nails like these. Lizzo wore a similar nail-art design to Cardi B's birthday earlier this year, and just last week, Jennifer Lopez put her own minimalist spin on the rhinestone French-manicure trend. Crystal beauty looks, it seems, will be reigning supreme for the foreseeable future.
Take a closer look at examples of the rhinestone French-manicure trend ahead.