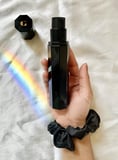 Whether it's the harsh coldness, my sensitive, reactive skin, or dehydration, I've been noticing my complexion becoming drier and dull. I often waking up to flaky patches on my face. My skin was easily irritable as well, and then it all clicked: I wrecked my skin's moisture barrier. I needed to show my skin some love with moisturizing and hydrating products that can restore it to its optimal state. I tested out the luxurious Eighth Day Reparative Moisturizer, and the extremely gentle and hydrating formula did wonders for my skin. Within a few uses, I noticed a luminous glow, and it only got better from there. When I looked into why this product can do so much without feeling harsh and, in fact, improve the state of my skin, the science-backed nutrient-rich formulation is the key.
The Reparative Moisturizer aims to hydrate and repair damaged skin, including protecting and healing your skin's barrier. It targets and treats concerns like loss of volume and firmness, fine lines and wrinkles, dullness, and dark spots. It can tackle a variety of these concerns since it's loaded with skin-loving ingredients. The moisturizer has a nutrient-rich blend of vitamins A, C, and E plus antioxidants like resveratrol, ferulic acid, and COQ10 and even an amino acid that inhibits tyrosinase and elastase production for an even skin tone and texture appearance. It's also packed with moisturizing and hydrating ingredients like ceramide proteins, linseed, which is rich in fatty acids that minimize water loss from the skin, and a fermented marine compound that boosts skin hydration.
Even with all this goodness, there's a star ingredient that takes this formula to the next level, peptide-rich plasma. Inspired by how the skin has the innate ability to heal itself, Dr. Antony Nakhla formulated peptide-rich plasma to help your skin do its job efficiently. The patent-pending ingredient uses stem cell technology that aids your own skin cells to heal, repair, and restore itself to optimum health, with the help of peptides, growth factors, and amino acids.
I tested out the moisturizer for around two weeks, using it every morning and night. Keep reading for my in-depth review.