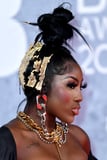 The BRIT Awards always give artists a chance to go all-out when it comes to showstopping glam, but the winner of best hair has to go to singer Bree Runway and her gorgeous, gold-foil-flecked updo. A true crowning-glory moment, the artist took the go-to messy bun from classic to downright regal with this one.
Though she's not the first Bree - or Brie, if you remember Larson's 2017 Met Gala look - to wear the glittering gold style on the red carpet, Runway has taken it to sparkling new levels with tons of the shiny stuff sitting pretty on the sides of her perfectly poised topknot.
The singer was one of a handful of artists who seemed to get the memo on the signature black and gold theme, wearing a stunning velvet, strapless, floor-length (all words we love to hear) dress with a Hollywood-esque sateen wrap and chunky, mixed-metal, chain-linked jewelry. Yes to this elegance.
It seems Runway has been turning heads all week. After releasing her new single, "Pressure," on Monday, she's putting pressure on the rest of the red carpet attendees' hairstylists with this dominating look. And while the talented artist didn't win the award for rising star, she did take home the gold in our beauty books.
Read on to check out all angles of Runway's gold-foiled hair look at the 2022 BRIT Awards.