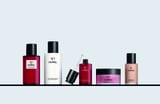 If you've ever seen photos of Chanel's elaborate fashion shows, window-shopped a Chanel store during the holiday season, or been lucky enough to receive a gift emblazoned with those iconic interlocking C's, then you've likely come across the brand's signature camellia flower. This symbol has been reimagined over the years in Chanel's clothing, accessories, and now, a new skin-care and makeup collection.
Turns out, the flower with spiraling petals so symmetrical they belong on Oddly Satisfying's Instagram feed is much more than a luxe packaging accoutrement. The camellia flower, specifically the extract from red camellia petals, holds potent antiaging powers. It was this discovery - 17 years in the making - that led to Chanel's newest and arguably most innovative (not to mention sustainable) line to date. Meet No. 1 de Chanel, which launches today.
The collection, which features a whopping 35 (!) products, is built entirely around this powerful floral extract that can withstand both the wet and cold without wilting, and as a result can work wonders for your skin. Let us explain.
For the past decade, Chanel has partnered with the biotechnology and aging department at the University of Natural Resources and Life Sciences in Vienna - yes, that's a real thing - to study senescence (aka the process of cellular aging). This internal process is what leads to all those external signs of aging, like fine lines, loss of elasticity, and radiance. That's where the red camellia comes in. Rich in skin-protecting antioxidants, this petal contains protocatechuic acid that the brand claims helps "support skin vitality" by targeting "senescent cells" - essentially keeping your skin healthier. In other words, if there was ever any evidence for the fountain of youth, Chanel might have found it.
Each product in the No. 1 collection, which includes skin care, two makeup products, and a fragrance, contains some form of the red camellia flower - whether it's red camellia oil, red camellia water, or a yeast extract - along with a variety of other skin-loving ingredients. The range is broken up into four categories: repair, treat, enhance, and revitalize, with each one promising to target the five main signs of aging regardless of how old you are or if your skin is oily, dry, or somewhere in between.
The skin-care lineup includes a few standouts. The Revitalizing Cream, for example, represents another first for Chanel Beauty as it's refillable. The Revitalizing Serum uses red camellia petal extract along with caffeine to boost vitality and an algo-peptide to re-create collagen. The Revitalizing Eye Cream not only uses camellia but also azalea yeast extract, which helps strengthen your lashes.
The makeup range includes a foundation and a two-in-one lip and cheek balm, the latter of which comes in six wearable hues that leave behind the prettiest hint of color. Lastly, there is L'Eau Rouge. This fragrance-meets-skin-care mist gives your body all the antiaging benefits of red camellia petal extract with an energizing scent so delicious - a blend of fruity citrus with floral rose and jasmine - you'll want to wear it year-round.
More than that, No. 1 is also the most eco-conscious collection from Chanel to date, which translates to everything from the natural raw materials inside the formulas to the outer packaging made in part from recycled bio-sourced materials. The in-house camellias are grown in the village of Gaujacq in combination with other plants that naturally reinforce the ecosystem (in fact, the farm boasts a High Environmental Value level three certification, which is the highest level of the certification initiative), allowing for a chemical-free environment; the laboratory follows a low-carbon footprint; and the products are housed in refillable packaging and recyclable cartons, also made with organic ink and QR codes instead of leaflets. Even the weight of the bottles and jars has been reduced in an effort to cut down greenhouse gas emissions.
Translation: you can feel good about treating yourself to a few new Chanel goodies - and you'll want to, after you see the entire No. 1 de Chanel collection ahead.