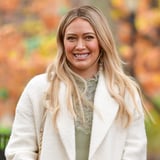 There have already been plenty of new and exciting celebrity tattoos in 2022.
Tattoos often hold a special meaning to the wearer, like in many of the ahead examples.
From friendship tattoos to ink that represents their favorite memory, these are some of the best celebrity tattoos so far of 2022.
Although 2022 has just begun, it's already shaping up to be a promising year for new celebrity ink. And it better, because 2021 brought us over 26 new pieces of ink to get inspired by. Standouts include Travis Barker's two new designs in Kourtney Kardashian's honor and Selena Gomez and Cara Delevingne's matching rose tattoos in December just before the year wrapped.
Tattoos often hold a special meaning to the wearer and provide a visual representation of their personality. Spotting creative and inspirational ink, like Demi Lovato's "Grandmother Spider" tattoo or Billie Eilish's hand tattoo, is what makes the process of getting inked so fun for both recipients and admirers alike.
At this point, it might be faster to name all of the celebrities in Hollywood who don't have tattoos. From professional-level body-art collectors like Megan Fox and Justin Bieber to tiny-ink enthusiasts like Yara Shahidi and Bella Hadid, it seems like everyone has at least one tattoo these days.
Keep scrolling to see more of the best celebrity tattoos of 2022 so far.