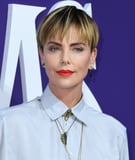 Image Source: Getty / Jon Kopaloff
Bowl-cut hairstyles are all over Instagram.
The style is characterized by blunt-cut fringe bangs, with the rest of the hair following the same shape and length around the head.
Today's take on the trend now features fades and layers for a more modern look.
Over the last few years, a few hairstyles of yore started quietly making their comebacks. From the resurgence of the mullet haircut to the shag - and even the "Farrah Fawcett flip" - hairstyles popularized by previous generations are staging a fierce return. Still, there's one particular style that we truly thought had been laid to rest for good but has made its way once again to the trend forefront. Allow us to reintroduce you to the bowl cut.
Before your eyes roll out of your head, we can tell you that the bowl cut of today is not the bowl cut that your mom gave you circa the early 2000s (or the Vidal Sassoon bowl - named after the late hairstylist - cut you might be thinking of). The modern version is cool and, dare we say, kind of cute? "The bowl cut is the purest extension of a bang," David Toth, a hairstylist at NYC's Salon SCK, previously told POPSUGAR. "It's easy, it's fun, it's bold, and it's also celebrity driven."
Remember how unbelievably spectacular Charlize Theron looked with a bowl cut back in 2019? The style has only improved since then, and the blunt variations of the style that we were used to seeing in the past can (thankfully) stay there. Even Cardi B stepped out in the style. "Make [the cut] less extreme and more wispy and choppy, like Rihanna's red-color bowl cut from 2010," Toth says. "Even if you cut some texture into a bowl cut, it's still super thick-looking, which is cool and really in right now."
The numerous iterations of this style now trending are too good to keep to ourselves, so we've rounded up our favorite modern bowl cuts for you to use as inspiration if you want to up your cool factor by a million.