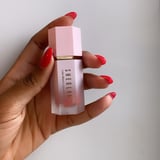 Sheglam's blushes went viral on TikTok for the low price and high pigment payoff.
The blush costs just $5 and comes in a range of eight colors for various skin tones.
One editor tested them out to see if they are worth the hype.
I am a big blush enthusiast. Powder, liquid, cream, you name it - I'm probably going to try it at least once. I pride myself on staying on top of the latest blush launches because I love trying different formulas to see how they can fit into my makeup routine.
While scrolling TikTok one night, I kept seeing these tiny blushes from a brand called Sheglam, and my interest was immediately piqued. The packaging was adorable, the blush itself was housed in a clear hexagonal bottle with a gold-accented baby-pink cap, and the product looked like it would be extremely pigmented. What really drew me in, though, was the applicator, which was a dense, doe-foot sponge.
Sheglam, it turns out, was created by the fast-fashion brand Shein, and the blushes are called the Color Bloom Liquid Blushes ($5). Staying true to their affordable roots, the blushes are only $5 and come in eight different shades. With that price tag, of course, I picked up a few.
I chose two of the darker colors: Swipe Right, a muted red shade, and Devoted, a shimmery coral shade. When I applied Swipe Right to my cheek, I found it to be the more pigmented of the two. The warm red color provided a natural-looking flush that I particularly enjoy in the wintertime, because it's the natural color my cheeks and nose turn when it gets really cold outside. Of the two, this was the more "everyday" blush for me.
Devoted, the coral color, is definitely a "pick me up" shade. It was a bit lighter and therefore required a heavier application, even with the use of a brush, than Swipe Right. It also had a shimmery finish, so it lent a subtle luminosity on the cheek. The bright orange tone of the color complemented my skin well. Orange blushes tend to flatter deep skin tones really well, so I wasn't surprised there, but I am typically not the biggest fan of shimmer in my blushes, so I was shocked that I actually enjoyed this one as much as I did.
I haven't had the need to wear makeup for a full eight-hour day since buying the product, so I can't speak to the formula's longevity, but these wore impressively well for the few hours I had them on before washing my face. The blushes started to look almost like a stain of color on my cheeks, which I think may aid in the overall longevity of the product once I do wear them with a full face.
In all, for the price, it is definitely worth picking up at least one shade of these blushes during your next Shein haul. Unless blush is just blatantly not your thing, there's a high chance you will like them. And for five bucks? I won't judge if you pick up a few.
Rating: