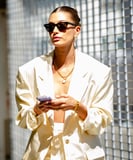 This year is going to be a time for taking care of your hair and honing your signature look.
The top hairstyle trends for 2022 include updos with a twist and updated takes on retro hairstyles.
Celebrity hairstylists are sharing more about the hottest hairstyle trends to look out for next year.
When it comes to 2022 beauty, the makeup is going to be more experimental, the skin-care trends will be smarter, and the top haircuts will be nods to the past. As for the hairstyle trends, there will be a harmony of old and new.
If the theme of 2020 was DIY haircuts and dye jobs and 2021 was all about being bold, 2022 will be a time for taking care of hair and honing your signature look, not necessarily changing it drastically. "2022 is going to be all about shine, color, and movement," Mark Townsend, celebrity hairstylist for Dove, told POPSUGAR. "We are seeing healthy hair again." What that translates to is fun updos with a twist, old-meets-new styles, and, most importantly, lots of shine. (And before you ask: no, accessories aren't going anywhere.)
Keep scrolling for more insight on the top 2022 hairstyle trends from top celebrity hairstylists.