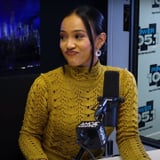 Some of us have more conventional (and virtually useless) hidden talents, like whistling melodies or reciting 30 digits of pi (me). But Karrueche Tran, on the other hand, has a special gift that's seriously impressive, albeit quite unique. As she recently revealed on The Angie Martinez Show, the actress can see a photo of a celebrity's hands and immediately identify the star by their nails.
While playing a "claws game" in which Martinez asked Tran to choose her favorite designs based on different categories, Tran chimed in to share her random skill, and the two then proceeded to switch up the game and have Tran guess the celebrity by their hands instead. "Wait, before you scroll . . ." she said. "Really quick, I can guess whose nail it is. I did that once, I forget for who it is, but I got them all right."
From Cardi B to Latto, the Claws actress once again guessed correctly each time with confidence and ease, even surprising herself at how well she did. I mean, we should have known she was a certified nail expert the second she took out her hand cream to moisturize her claws prior to the game. Above, watch Tran's expertise in action around the 17-minute mark.