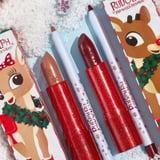 ColourPop has plenty affordable products to choose from that make great holiday gifts.
From makeup to skin care, and body care, we rounded up the best beauty present ideas for everyone on your list.
Shop items from its viral collaborations, as well as hero products.
Around the holidays, we're always on the hunt for affordable gifts that way we can buy more items for our family and friends (and maybe even a little something for ourselves). Luckily, there's no shortage of amazing beauty brands on the market with great products at a super low price point. And if there's one brand that's truly mastered the balance of quality and affordability while always staying on trend, it's ColourPop.
The cosmetics brand has it all - skin care, body care, and makeup - plus new, limited-edition collaborations dropping left and right, making it especially good for gift giving. You can find something that fits every beauty style in the brand's catalog of products. In need of something to really wow your super-glam friend? ColourPop's many glitter items will do the trick. On the other hand, if you have someone on your list who's Star Wars- (or Hocus Pocus-, or Hello Kitty-. . .) obsessed, the brand has a collection for that. Or, if you want to go the classic route and get your friend a festive holiday present, there are a handful of adorable Rudolph-themed products that make awesome stocking stuffers.
To get your holiday shopping done with money to spare, keep reading to find the best gifts from ColourPop.