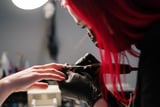 TikTok is becoming the place to get your beauty tips, makeup hacks and hair inspiration right now, with people from around the world sharing their beauty know-how and experiments with the platform's one billion active monthly users. Still, there's one underrated corner of the video sharing app: NailTok.
NailTok is filled with amazing manicure hacks, pro nail artists, and product recommendations that will seriously level up your nail game. Whether you're looking for press-on ideas, gel polish tips and kits, festive nail art to try out at home, or just some nail color inspiration, it's all there on TikTok.
You'll even find nail techs sharing their behind-the-scenes experiences at their nail salons, including how much they make and the sets that they create for their clients. The videos where customers pick from a range of nail-art designs, nail shapes, and length options (without being able to see what they are) are by far our favorites - we love seeing how they turned out.
There are 1.1 billion #NailTok hashtags on TikTok, but if it hasn't made its way to your FYP just yet, we've got you. Read on for our list of the must-follow manicurists and nail artists on TikTok.