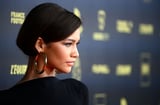 Zendaya has just the thing for anyone who's ever wanted to sport a bob haircut for a special occasion but doesn't want to take the plunge and actually get a dramatic chop. The Dune actor was seen at the Ballon D'Or Ceremony in Paris on Nov. 29 with a tucked bob - but it was really a master class for hair deception. From the front, Zendaya's hairstyle looked like a regular bob with tucked-under ends, but the back revealed the truth: she and her hairstylist Antoinette Hill pinned her hair underneath to fake the chin-length style.
"We went will a tucked faux bob effect to complement yet accentuate this form fitting open back gown with a golden spine," said Hill on Instagram of the look. Zendaya has tried out so many different hairstyles for various events recently that it's hard to pick a favorite. She rocked a curly shag at the Dune premiere, a bowl-cut wig for a magazine cover, jumbo box braids at the CFDA Awards, and many more. But this faux tucked-under bob hairstyle may take the cake for being so innovative and resourceful.
Ahead, see Zendaya's fake tucked bob from every angle. It's the perfect hairstyle hack for upcoming holiday parties.