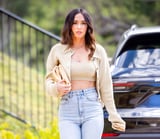 There are many factors to take into consideration when finding your perfect hair color.
You should look at your skin tone, undertones, and eye color.
Hairstylists know what hair colors complement blue eyes best.
There are a lot of factors to take into consideration before trying a new hair color: maintenance, how easy it is to achieve with your natural color, and how it'll look with your skin tone are all common ones, but one thing you might forget to account for is your eye color. Your eyes can be used as a secret key to what colors will be the most flattering on you.
Looking at the color of a person's eyes when recommending a new hair color is something professional hairstylists do all the time and ahead, three experts are sharing their wisdom with us. But first, let's clear something up: this is not to say you have to stick to the recommended list of hues just because it's what complements your eyes. Look at this information as another tool to keep in your toolbox if you're ever feeling stumped on what direction to take your look next. Starting with one of the lesser common eye colors that make up only eight to 10 percent of the population, keep reading to find out the best hair colors for blue eyes according to the pros.
"People with blue eyes have quite a few options for hair colors that can make them stand out," Laura Gibson, Rusk's artistic director, told POPSUGAR. Hitomi Ikeda, master colorist at Rob Peetoom Salon in Williamsburg, added: " When you have a blue eye color, you can pretty much rock with any shade of blond and brown hair. "Blond is one of the most common hair colors for people with blue eyes, and it looks great because it's a natural-looking combo. Just look at celebrities like Gigi Hadid, Taylor Swift, and Jasmine Sanders. But the list of flattering color options doesn't stop there.
"The hair colors that typically look best with blue eyes are platinum blonds, sandy blonds, strawberry blonds, ginger reds, auburns, espresso browns, and raven blacks." said Matt Swinney, Rusk's global creative director. These colors all give you the "perfect amount of contrast to make blue eyes pop," according to Ikeda. Celebrities examples include Alexandra Daddario, Emma Stone, and Megan Fox, to name a few.
For even more clarity on the most flattering hair color for you, Swinney recommended you take a peek in your closet. "What colors do you like and feel the best in? Then go to that family of hair color and you will be feeling your best on the daily," he said. That information, combined with your skin tone, will lead you to your perfect match. "For example, if you have very pale skin, a soft copper or platinum would pair better with your skin and eye combo," said Gibson. "For those with darker and more olive complexions, a dark espresso brown will really make your eyes pop and your skin glow."
Ikeda emphasized how important it is that you "choose a shade that won't clash your skin complexion" above all else. "I always recommend scheduling a consultation with your colorist in person to ensure you achieving your desired result," she said.