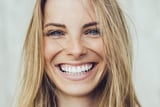 White teeth aren't always easy to come by, and professional teeth whitening can cost over $1,000.
At-home teeth-whitening products are much more affordable and super easy to use.
You can find the best teeth-whitening products at places like your local drugstore and online.
If there's one beauty category that has become a lot more attainable no matter your budget, it's the vast and varied world of teeth whitening. There was a time when only a professional could whiten and brighten your smile, and it'd cost you a pretty penny. Whitening your teeth was considered a once-in-a-while indulgent beauty treatment - something you'd save for an event like your wedding.
But my, how things have changed. You're now able to hit the drugstore or go online to get ahold of the best teeth-whitening strips and kits that allow you to do your own treatment in the privacy of your bathroom. This is good news for anyone with a coffee dependency or a habit of unwinding with a glass of red wine, as these beverage choices can take a big toll on your smile.
Now, there are plenty of at-home solutions to treat stains and dullness at prices notably lower than pro treatments and with great reviews, too. You can score some of the best teeth whiteners for pretty cheap and even products for whitening sensitive teeth without pain. In general, consistency is key with teeth whitening, so no matter which product you choose, the most important thing is that you stick with it, whether you just want to be able to do quick touch-ups or are looking to invest in a more long-term whitening solution.
If you want to whiten your teeth at home, we found 14 of the best teeth-whitening products that won't break the bank, from strips to kits, pens, and even toothpastes. Keep scrolling to shop.
- Additional reporting by Sarah Siegel and India Yaffe