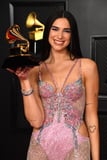 Beauty trends from the 1990s are seeing a mass resurgence this year.
Retro tattoos like barbed wire designs are also gaining popularity.
Barbed wire tattoos can take many forms, from armbands to tiny knots to Dua Lipa's heart design.
In 1995, Pamela Anderson famously sauntered onto the red carpet with a barbed-wire tattoo wrapped around her left bicep. This all but etched her image from "girl next door" to newfound "bad b*tch" in place, and quick, catapulting the spiky design into big-time trend territory for years to come. (She would later get it removed via laser, in 2014.) Now, in case you hadn't noticed from the surge of mullet haircuts, thin eyebrows, and brown lip liner, 90s beauty is back, baby - and it seems the tattoos of yore aren't trailing far behind.
Of course, today's barbed wire tattoos needn't be mutually exclusive with armbands; in fact, the modern take on the tattoo trend can include fine-line needlework or tiny wire knots anywhere from your ankle to your ribcage to your wrist. Dua Lipa got inked with a barbed wire heart on her forearm, for example, proving the style can come in many forms. You just have to consider: do you want it easily hidden or out in the open? Big or small? Up or down? (Only slightly kidding with that last one.)
Either way, the design can be rich in meaning. While symbolism behind any tattoo is deeply personal, a common thread for barbed wire specifically is that it represents strength, resilience, and courage - and that, dear readers, is something that never goes out of style. See some of our favorite iterations below.