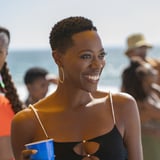 Image Source: Glen Wilson/HBO
In every corporate America position I've held, I've been conscious about my hair - how much space it took up if I wore it in a twist out or teeny-weeny Afro (also known as TWA), worried I wouldn't be taken seriously if I wore individual box braids, and anxious about what people would think when I straightened my curls. Although dress codes don't require employees to have straight hair, it is often implied - making it difficult for me with 4A curls and coils and for many other Black or mixed-race people to wear our hair any style, without speculation.
While organizations are working on getting legislation like the CROWN Act, a law that works to combat the discrimination Black women face in the workplace, in place in more states, discrimination and rejection still happen. That's why when Molly (played by Yvonne Orji) stepped out on episode two of Insecure's new season with a big chop, it was a big deal. Orji, who plays a powerful attorney, sported sleek, sophisticated weaves and wigs the first four seasons. Then in season five, the show opens up with Orji meditating in a beautiful silk pajama set and a sharp, tapered TWA with slight fade.
For hair department head Yvette Shelton, the decision was intentional and intended to introduce viewers to a different image of professionalism: "We wanted to show the audience that even if you are a fly attorney, you don't need a certain type of hair to obtain professionalism," Shelton told POPSUGAR. "You can be professional with any type of hairstyle."
This is important for many reasons, including that straight hair often directly correlates to professionalism, leaving curls and natural hair out of the conversation. History and experience have shown us that following Eurocentric beauty standards could be the difference between landing a job or not or being taken seriously or not. Black actors like Gabrielle Union have lost roles because their hair was not part of "the costume design," and Black women have had job offers rescinded or gotten sent home if they failed to adhere to unjust hair policies. The fact of the matter is, Black women are unfairly judged under a microscope for their grooming choices, especially in the workplace - and nothing is more evident of this fact than with Black hair.
And it's more than just hair - Issa Rae and the entire team behind Insecure illuminate the idea of professional hair with a confidence that has rarely been seen on TV. "When I cut it in quarantine, Issa hit me up and was like, 'Girl, yeah, we love that so much, that's gonna be part of season five,'" Orji shared on a recent Red Table Talk. The cast and crew recognized that a big chop was something that needed to be seen on TV.
Image Source: Merie W Wallace/HBO
Big chops have never been absent from Black culture, but the visual of it being professional often goes unnoticed by mainstream (read: white) audiences - until now. "Even though Insecure is a Black show, it is an inclusive show," Shelton said. "And I feel like we were already on the page [natural hair movement] that Hollywood is going to now. We were already there."
Molly's big chop is an act of reclaiming representation and what it looks like to be a professional and, quite frankly, an absolute boss. For many Black women, the reveal in season five brings us one step closer to normalizing that exact message.