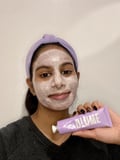 My skin has gone through the wringer when it comes to dealing with acne and breakouts. It's something I've dealt with since I was a preteen, and I still deal with it in my late 20s. But now, it's different - my skin gets congested with tiny pimples and the occasional hormonal zit. I realized those tiny bumps and pimples happened because my skin felt irritated, probably from overdoing it with potent skin-care products. My skin becomes imbalanced and inflamed, and as a result, it breaks out into bumps and blemishes.
I have noticed that my skin has become a lot more sensitive and reactive since my teen years. I needed something to help calm down my skin yet manage my congestion and breakouts simultaneously. When I heard about Blume's new Superpower Clay Mask, I was very intrigued to try it out. Traditional clay masks tend to dry out the skin for a soft, even texture, which is aimed at those with oily skin. However, my skin type is on the normal to dry side, and it gets drier during the colder months. Blume's Superpower Clay Mask is suitable for all skin types. It incorporates the best of both worlds, including hydrating, nourishing ingredients and three types of clay that aim to calm the skin while clarifying it.
After one use, I noticed a difference in my reactive skin. Areas of irritation were less inflamed, and the redness disappeared. My skin looked and felt less congested as well without making it feel stripped, dehydrated, or super tight. This mask helped me manage my skin when it acted up. Keep reading for my in-depth review.