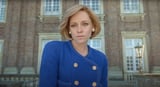 There's no other way of saying it: Princess Diana has been a style icon and beauty inspiration for people all over the world for decades. From her epic '80s fashion moments to her signature hair and makeup looks (including her love of blue eyeliner), people have attempted to emulate her every move for years and years, looking to capture her seemingly effortless and classic style that grabbed hearts around the world.
One of the latest re-creations of Princess Diana's story comes from Kristen Stewart in the much-anticipated biopic Spencer, which hits theaters on Nov. 5. The movie follows her story as she makes the decision to leave her marriage to Prince Charles, walking away from one of the most famous marriages in the world at the time and changing the course of their lives forever. While it focuses on that tumultuous weekend spent with the royal family in December 1992, there's another thing people can't seem to get enough of: how accurate Stewart's portrayal of the late princess seems to be, from her shag haircut down to her rosy pink blush.
To get the behind-the-scenes scoop on exactly how the actor transformed into what many are calling the most realistic and personal depiction of Princess Diana to date, we spoke with Stewart's personal makeup artist, Stacey Panepinto. She's worked with the actor for more than 10 years on everything from Twilight to Snow White and the Huntsman, but this may be her most momentous transformation yet. Keep reading for all the beauty tea.