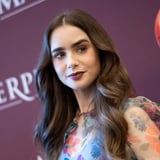 Image Source: Getty / Valerie Macon / AFP
Lily Collins is known for her endless, flowing brown hair, but she recently tested out a look that's on the complete opposite end of the spectrum - in both color and length. While posing for the cover of Elle UK's December/January issue, the Emily in Paris actress rocked a platinum-blond pixie cut with side-swept bangs and tons of texture, keeping her signature bold eyebrows the same dark-brown color. We nearly didn't recognize her when she shared behind-the-scenes selfies on Instagram thanking photographer Danny Kasirye for capturing her "platinum blonde dreams."
Collins's edgy "ice queen" hairstyle - which, yes, appears to be a wig - is courtesy of renowned celebrity hairstylist Ken O'Rourke, who's worked with other big names like Kristen Stewart, Priyanka Chopra, and Amy Adams in the past. She somewhat reminds us of supermodel Twiggy in her '60s heyday with the super-short style, wouldn't you say? She's one heck of a hair chameleon, and we're taking notes.