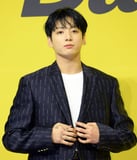 Over the weekend, BTS's Jungkook shocked us by debuting a brand-new hair color right before the K-pop group's "Permission to Dance" concert on Oct. 24, and the BTS Army can hardly stand it. The singer, who previously had black hair, can be seen with a platinum blond hair color in a photo obtained by fans, but the light hue didn't last long before Jungkook switched it up yet again. During soundcheck for the concert, he clearly added a green-blue tint to it, trying the blue mist hair-color trend on for size.
Fans were quick to point out this isn't the first time Jungkook opted for a lighter hair color. We last saw him blond in January of 2021, but this minty blond hue is a big departure from that. Still, Jungkook is no stranger to striking hair transformations. The singer has tried a variety of unconventional hair colors over the years, from bright blue to smoky gray.
It's unclear whether this minty blond hair color shade is a permanent switch for the result of a temporary tint, but judging by the BTS Army reactions on Twitter, people are liking it. "How is Jungkook even real???" read one user's tweet after the concert, while another said, "blonde jungkook is ethereal."
Check out more of the reactions from Twitter ahead and get a closer look at Jungkook's new blond hair color here.