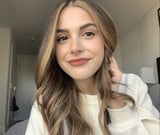 "Money piece" highlights have had a resurgence in popularity this year.
They are similar to the chunky, face-framing highlights that were popular in the '90s.
The final results are dramatic and fun but do require regular upkeep.
Aside from a brief phase in college where I hopped on the ombré-hair bandwagon, I've stuck to my signature beachy waves and medium-brown hair color almost every day for the last five years 一 until recently, when I was itching for a change. After spending one too many late nights scrolling on TikTok, I decided to try out the "money piece" highlights trend. I wanted to add some brightness and dimension to my monotone hair, and because I've seen so many flattering examples of these chunky, face-framing highlights, I knew opting for this style would get me there.
Days later, I found myself in the styling chair of Tyler Timothy Carfi, my longtime hairstylist and owner of the brand-new Selfish Hair Salon in Mt. Kisco, NY. I explained that I wanted to take the money-piece trend for a spin but was fearful about it looking too chunky or stark. We discussed adding in balayage highlights to balance out the money pieces and give my overall look more dimension. Keep scrolling to see how it went.