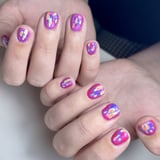 Recently, it feels like there's a new nail-art trend popping up every day that's even more creative than the last. As of late we've seen everything from the double french manicure to 3D candy nails to jade-stone nail art, just to name a few. This week, one of our favorites is the thermal manicure, which is inspired by the cool visual effect created by a thermal imaging camera - you know, the ones you see on those haunted TV shows.
Appealing to our love of all things multicolor, the trend involves painting multiple layers of multicolored gel polish on top of each other, and once they've been cured, a nail drill is carefully used to drill down a few layers, revealing the thermal effect. While we're all about the DIY when it comes to nails, this manicure trend is definitely best left to the professionals with the use of drills and gel nail polish. (Just trust us on this one.)
If you want inspiration before trying it for yourself, get a closer look at different nail artists' takes on the fun thermal manicure ahead.