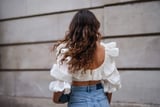 There are plenty of things you can do to your hair to add something extra without getting a major cut or double-process color change. For example, hair-color techniques like lowlights, balayage, and highlights are a few options to consider. Still, while the latter two have become go-tos for people who want to spice up their color without completely committing to something new, there's a little more confusion around lowlights and what they really are.
Despite the fact that lowlights and highlights have similar names, they are very different. Highlights will lighten certain strands to contrast with your natural hair color, while lowlights will darken them. "Lowlights add depth and dimension to hair," Devin Toth, a hairstylist at New York City's Salon SCK, told POPSUGAR. "When hair has been highlighted over and over, it eventually looks completely blond and loses its depth and dimension."
At the salon, hairstylists often add both highlights and lowlights to the hair at the same time. According to Toth, this is intentional, to create a more natural-looking effect, or to soften the look of money-piece highlights. Lowlights, of course, can be as subtle or bold as you'd like them to be.
"Like highlights, your colorist will know how to make them appear natural as opposed to stripe-y or chunky, whether they are doing foil highlights or balayage," Toth said. "I personally like how lowlights look when they are applied as babylights: nice and soft. Less is more."
Ready to book your appointment? Keep reading for some of our favorite examples of lowlights that you can screenshot before stepping into the salon chair.