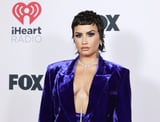 Demi Lovato's tattoo collection just grew severalfold. A few days after celebrating their 29th birthday in the Maldives, the singer visited the highly sought-after celebrity tattoo artist Dr. Woo for some fresh ink. This time around, Lovato chose to have a song lyric from "Infinite Universe" by Beautiful Chorus - "Love will live forever in the infinite universe" - tattooed on the back of their left hand in an all-caps handwritten font. The lyric is surrounded by celestial illustrations, including stars and a planet, and is joined by an additional all-black crescent-moon design on Lovato's middle finger.
While sharing a peek at the tat on Instagram Stories, they wrote, "THANK YOU @_dr_woo_ for making exactly what I asked for!!! It's perfect!!!" also making sure to give a hat tip to Beautiful Chorus for the lovely line.
Longtime Lovatics are well aware this isn't the artist's first foray into the world of hand tattoos - they also have a large lion head, a simple cross, and the word "free" in cursive script on their right hand. In total, Lovato has more than 23 meaningful tattoos that we know of, including a butterfly on their neck, a portrait of their great-grandmother on their forearm, and the words "Let Go & Let God" on their feet. Read ahead to take a closer look at Lovato's latest ink additions, and then catch up on the top four tattoo trends for fall 2021 for more inspo.