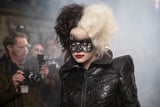 Halloween is one of the only times of year when it's socially acceptable to spend a full 24 hours cosplaying as a movie or TV villain - and we can't think of a more perfect villain to take costume inspiration from than the infamous Cruella de Vil. With Disney's release of the live-action film starring Emma Stone dropping earlier this year, we're anticipating seeing tons of remakes of some of the chicest looks from the movie as Halloween inches closer.
Cruella is famously known for wearing blocked black-and-white hair - the color even became a huge trend this past summer - and a bright-red lip color, though if you want to go outside the costume box, you could also snag a copper-colored wig and spend Halloween dressed as Estella, the fashion-obsessed young woman Cruella was before she became a villain. Whatever you choose to do, we're here to help you weigh your options.
Read ahead to check out a few Cruella-inspired hair and makeup ideas for Halloween.