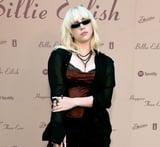 We hope you weren't too attached to Billie Eilish's mullet because, by the looks of the Happier Than Ever singer's new bob haircut, it's not coming back any time soon. On Monday, Aug. 23, Eilish posted a series of photos and videos on her Instagram Story of her new hairstyle and the transformation even made it in-feed with a video that she captioned, "gone🧚."
Eilish's new chin-length haircut still features the same wispy bangs that she sported with her shag - she just removed all of the extra length. The bob appears to have choppy layers throughout with blunt ends, giving it a shaggy look, which Eilish has proven time and time again is her preferred style. The only difference this time around was the inspiration behind the new cut: her mom, Maggie Baird. In her Instagram Stories, after showing off her new length from every angle, she included a photo of Baird with the caption, "Like my mama."
Back in March when Eilish got her shag haircut, she also dyed her neon green hair, which had become her signature look over the years, to a bright platinum blond shade. This time around, she may have kept the same hair color, but her transformation was just as jaw-dropping. It's like Eilish knew we were beginning to think about our next haircut for fall and decided to serve us inspiration on a silver platter - to which we say, thank you.
Take a look at Eilish's bob haircut ahead.