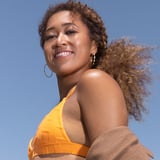 Image Source: Djeneba Aduayom for Women's Health
Naomi Osaka understands the importance of sunscreen, and she's making it her mission to ensure other people do, too. In her September cover story interview with Women's Health magazine, the tennis star talked about her new skin-care company, Kinlò, and her goal for the brand.
As someone who spends most of their time outdoors and has for their entire life, Osaka said she never "second-guessed" sun care, but she's aware that's not the case for most people with darker skin tones. "I never imagined how eye-opening the statistics on skin cancer in Brown and Black skin would be," she said in the interview. "It wasn't enough to make products that didn't turn our dark skin white and didn't have harsh chemicals. I also wanted to dispel the myth that just because you have dark skin and don't burn means you don't need to take care of and protect that skin."
What Osaka is referring to is the misconception that people with darker skin tones don't need sunscreen because the rich melanin in their complexion protects them - in reality, everyone needs SPF to defend against harmful UV rays and prevent skin cancer. Kinlò, Osaka's beauty brand, is set to launch in the fall and will presumably include a sunscreen product. Back when news of the brand broke in April, she wrote on Instagram that she wanted her brand to "protect and rejuvenate melanated skin tones."
Image Source: Djeneba Aduayom for Women's Health