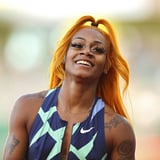 This weekend, Sha'Carri Richardson is competing in her first event since the controversy surrounding her Olympics suspension, and she just underwent a full hair transformation ahead of the comeback. The record-breaking track and field star took to her Instagram this week to reshare a short before-and-after-style TikTok video where she mouths the words to a voiceover of Nicki Minaj saying, "I took a couple, you know, I took some time off to rest, and now it's game time, b*tches."
The first half of the clip shows Richardson bare-faced and sporting her natural dark, textured hair before her stylist rips off her smock and the video cuts to the athlete wearing full makeup and a wavy, waist-length, platinum-blond wig with an icy-blue under layer. "August 21 and I'm not playing nice 👊🏾," Richardson captioned it.
Richardson took first place in the women's 100-meter dash at the Olympic Trials earlier this summer wearing a fiery-orange hair color that she later admitted was chosen for her by her girlfriend. She's since been praised for her statement-making style and joins a growing list of Black women athletes freely expressing themselves through beauty while competing.
Richardson is set to compete in the 100-meter at the Prefontaine Classic this weekend against the three women who took home medals in the event in Tokyo earlier this month: Elaine Thompson-Herah, Shelly-Ann Fraser-Pryce, and Shericka Jackson, all from Jamaica.