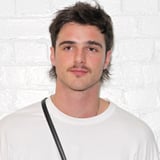 Image Source: Getty / David M. Benett / Axelle / Bauer-Griffin
In a sea of celebrities rocking out to the mullet trend, Jacob Elordi's business-in-the-front-party-in-the-back look is one that we can't forget. Kaia Gerber, on the other hand, took the first opportunity she got to delete Elordi's '80s-style mullet from her memory. During an interview with Modern Family's Julie Bowen on Jimmy Kimmel Live! on Tuesday, Elordi revealed that Gerber's first order of business when they started dating in 2020 was to break out the scissors and snip away his luscious locks.
"She said, 'You're cute, but not like that.'"
"I always have short back [hair] and sides because of the movies and shows that I'm on," he said. "[But] I'd always wanted a mullet and my mum never let me have one 'cause she wanted me to be like a gentleman and presentable." To refresh our memories, Bowen pulled out a photo of Elordi rocking the shaggy hairstyle behind a sleek pair of sunglasses, briefly evading his mom's "no mullets" rule. But, like a stray hair tie lost to the abyss-like pockets of a purse, his new hairstyle was gone almost as soon as it arrived.
"My girlfriend, within a week of us dating, she cut it off," he said. "She took me to the bathroom and she got the scissors out and she cut it off. She said, 'You're cute, but not like that.'" Direct action. We love to see it. Though, if Elordi ever does decide to bring back his mullet, we will be ready to admire it from every angle. Ahead, hear Elordi recount the loss of his mullet and explain what it's like to use an American accent in The Kissing Booth 3.