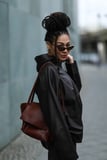 If there's one thing we know to be true about hair trends, it's that you can guarantee they'll always come back into fashion in the not-so-distant-future. Case in point: baby braids. In 2021, the likes of Hailey Bieber, Madison Bailey, Charli D'Amelio, and Bella Hadid have all tried the trend, which takes two face-framing strands of hair from either side of a middle part and creates plaits to form two mini braids. Recently, our favorite celebrities have experimented with the old-school baby braids, which were popular in the '70s as well as the late '90s and early 2000s, and given them a 2021 twist: baby bubble braids.
This style combines those small face-framing stands with the popular bubble braid, which we've seen on Griff, Priyanka Chopra, and Tika Sumpter over the past year. First we saw Gigi Hadid try out the sweet mini bubble braid look in April to celebrate her 26th birthday (courtesy of hairstylist Laura Polko), and now Laura Whitmore - who is known for experimenting with fun hairstyles - has put her own twist on the trend.
"We've been seeing baby bubble braids on so many celebs lately, and it's actually a super simple look to recreate," said Jamila Powell, owner of Maggie Rose Salon and founder of Naturally Drenched. "Section off the front pieces of your hair and use clear elastics to tie off each section, leaving about an inch in between each piece."
Get a closer look at some of our favorite baby bubble braids ahead.