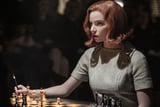 If you were as taken with the Netflix original limited series The Queen's Gambit as we were, chances are you're considering dressing up as the one and only Beth Harmon for Halloween this year. With her fiery red-orange hair color and classic, '50s glam, Beth makes for the perfect Halloween costume because her signature look is distinguishable, cute, and most importantly, easy to recreate.
All you need to be the young chess prodigy for Halloween is a red wig styled in a short, curled bob (unless you're already a redhead yourself). This hairstyle has become synonymous with Beth and will have people saying "checkmate" to you instantly. Beth loved to accessorize her short haircut with headbands and hats, so you can easily dress up your costume with those as well. With Beth, it's all in the hair. When it comes to the character's makeup, what you have in your collection of beauty products already should do. She stayed true to the '50s and '60s with her berry-red lipstick, dramatic black winged eyeliner, and natural brows.
To help you transform into the grandmaster herself this fall, we rounded up everything you should need to copy Beth's hair and makeup for your Halloween costume ahead.