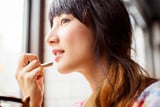 When your lips are dry and chapped from too much time in the hot summer sun, the wrong lipstick formula can make moisture matters worse and even draw attention to dry, flaky patches.
Your solution doesn't necessarily have to be ditching your lipstick completely either. Apart from loading up on lip balm and drinking plenty of water, purchasing a product that delivers your desired color (a summery coral, perhaps?) along with a boost of hydration may help you out.
You can do this on a budget too. Ahead, find four of our favorite hydrating lipsticks that all ring in at under $15.