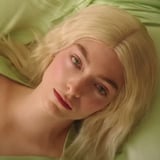 Image Source: Getty / Gotham
Can we get a mood check? Seems like things are easy and breezy, as long as Lorde's newest single is the soundtrack. On Tuesday, the musician dropped the last song from her Solar Power album, titled "Mood Ring." Her track follows the same chill vibe as the previous singles, but there's something very unique about this release - namely, Lorde's bleach blond hair.
The "Stoned at the Nail Salon" singer debuted a lighter look for the video, which had many fans on the internet doing a double take. "So you're telling me that's Lorde and not Anya Taylor-Joy?" one Twitter user asked. We simply can't unsee the comparison now. But while Taylor-Joy's blond hair is here to stay, Lorde likely wore a wig for her bleached moment. She's showed up for interviews and photoshoots since with her natural brunette shade in place. But we'll always have the "Mood Ring" memories. Watch the clip below to see Blond Lorde in all of her glory.