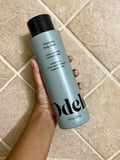 Odele is known for its line of hair-care products that offer salon-quality formulas without the hefty price tag. The collection is exclusively sold at Target, and every product is under $15. I'm a huge fan of the brand's leave-in conditioner, so I was excited to try its new line of body washes. The one that made the biggest impression? The Odele Clarifying Body Wash.
As someone prone to ingrown hairs and has dealt with both bumps and body acne, I was beyond ecstatic to test an exfoliating body wash that is on the affordable end of the spectrum. With a combination of tea tree oil and AHA's, the Clarifying Body Wash has become an instant staple in my shaving and ingrown hair routine. After consistently using the cleanser for a week, I noticed that my skin's overall texture had improved. It felt softer and smoother, with fewer bumps and roughness.
That's not all: the invigorating minty scent and refreshing sensorial experience will make you want to take multiple showers a day, unlike some celebrities out there. Keep reading for my in-depth review.