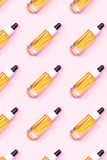 Like an anal-retentive roommate who's always after you about the dishes, retinol is extremely effective at making sure everything looks as pristine as possible - but it can also be pretty irritating. On the upside: not all formulas are created equal (the vitamin A derivative falls under a category with more than 2,500 different chemicals called retinoids, after all) and most experts would still agree that the workhorse ingredient is the best thing you can do for your skin.
The fact is, nothing else on the skin-care market has been clinically proven to simultaneously boost cell turnover, treat acne, fade fine lines and dark spots, or reduce the appearance of pores for a brighter, dare-we-say-better looking visage quite like retinol. The most potent form of the stuff comes from the doc's office, of course, but there are also plenty of powerful iterations you can scoop up over the counter that don't skimp on results.
So while dermatologists love to pull out their prescription pads, because we asked nicely, they've divulged their favorite OTC retinols worth incorporating into your skin-care routine, ahead.