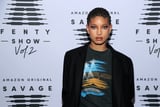 There are plenty of short haircuts that look especially flattering on natural hair textures.
Shorter Black hairstyles can also accentuate your other facial features.
Use this guide as inspiration to the best short haircuts for natural hair.
There's a common misconception when it comes to natural hair that, in order to sport a variety of chic styles, longer and bigger is better. How you choose to wear your hair is a personal choice, of course, but we'd argue that the rumors aren't true. There is no one-size-fits-all haircut length that looks best on textured types, so you should feel confident knowing there are plenty of short crops that also look great. Even better, shorter haircuts make for the most dramatic transformations (in the best way) and bring your facial features to the forefront.
Whether you're considering letting go of some length for your first big chop or you're just interested in debuting a new cut, we're here to help find the right style for you. Luckily, there are plenty of flattering options to choose from that make for some dramatic transformations. From buzz cuts and faded frohawks to undercuts and the pixie, read ahead to check out some of our favorite short haircuts that look amazing on natural hair.