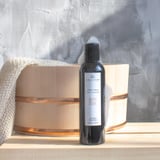 Hinoki is one of those scents that once you smell it, it's forever stuck in your brain - it's so subtle but strangely intoxicating. Also known as Japanese cypress, hinoki is a tree native to Japan and is often used to construct sacred buildings - think: shrines and temples - there. It's also naturally antibacterial and doesn't break down with humidity, meaning it's often the building blocks for Japanese bathhouses and onsen (hot spring baths) buildings - and when the steam hits the wood, it releases its signature earthy aroma.
The smell of hinoki is sort of otherworldly; it evokes a sense of deep calm, like when walking through a crisp fragrant forest. It's often associated with relaxation and meditation, and is rich, woodsy, and smooth without being overpowering. It's definitely a unisex fragrance - not too floral or citrusy, and not too spicy or musky. It skews a bit piney but is decidedly gender neutral.
While hinoki oil is most often found in bath salts and soaks, it also has some serious skin benefits. A 2015 study done on mice showed that hinoki oil could help alleviate atopic dermatitis, and like many other coniferous plants (pine, fir, and spruce trees), Japanese cypress oil has been found to help promote hair growth and improve scalp health because of its antifungal properties.
Plus, because hinoki is so highly prized both in Japan and around the world, the tree is actually considered a near threatened population, so when looking for products, you'll want to check for an indication that the hinoki was sustainably sourced. With that in mind, we rounded up some of our favorite Japanese- and American-made products containing hinoki.