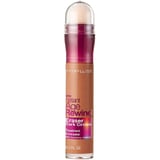 Many things - including genetics, dehydration, and late nights with your friends - can cause the dark circles under your eyes. If you're looking to cover up discoloration specifically in your under-eye area or you just want to find a concealer that you can use on areas of your face with hyperpigmentation, we've got you covered.
The best concealers for dark circles are, in short, made with the right stuff. They're formulated with brightening pigments that help reflect light and hydrating ingredients that care for this delicate area of skin. They also need to last through hours of wear, never creasing or oxidizing throughout the day. You don't have to spend a ton of money to find a great concealer for under your eyes - there are plenty of options starting at just $6 that you can scope up at your local drugstore or Target.
Whether you're a full-glam kind of makeup wearer or like to keep things natural, you could benefit from having a reliable dark circle concealer. After all, you never know when Netflix might drop a new show that you simple can't stop watching.
We've curated a list of the best under-eye concealers for dark circles for you to shop, ahead.
- Additional reporting by Jessica Harrington