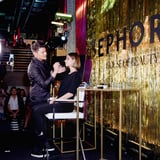 After a year-long hiatus, Sephora has finally announced that its annual beauty event Sephoria is coming back this fall for the third time. In its first two years, Sephoria has been a live, ticketed event held at a convention center in Los Angeles, though this year, it's returning virtually (for free!) due to current events and growing safety concerns amid the COVID-19 pandemic.
"We are thrilled to reintroduce SEPHORiA this year and bring our clients a unique, innovative, and more inclusive beauty experience," Deborah Yeh, Sephora's chief marketing officer, said in a statement. "In 2021, we felt it was important to have a moment of joy with our clients and we've worked hard to recreate the special SEPHORiA environment our clients know and love, by delivering an unmatched virtual experience that they can enjoy free, from anywhere."
Sephoria, which hosted around 4,500 attendees during its first go in 2018 and over 6,000 the following year, previously offered guests free products and services from some of its most popular brands, as well as masterclasses taught by celebrity makeup artists like Patrick Ta and brand founders like Tatcha's Vicky Tsai. According to The Cut, attendees were also given access to exclusive new products before they even dropped.
This year, those who attend will gain access to live and pre-recorded content from beauty influencers and celebrities while also getting to virtually meet brand founders and experts, play virtual games in order to win free products, take selfies in virtual photobooths, and more. There will also be five virtual rooms at the event featuring over 30 participating brands. The home theater room will feature masterclasses and introductions to new products from Fenty Beauty, Sephora Collection, Shani Darden Skin Care, and more; the family room will be a space for roundtable discussions with former Accelerate brand founders; the loft will be a place for beauty lovers to connect with one another to discuss hot topics in the industry; the sunroom will allow guests to learn about some of Sephora's biggest clean and sustainable beauty brands; and the backyard is likely where a few surprise guests will be hosted.
Open to all US Beauty Insiders, Sephoria: Virtual House of Beauty will take place on Sept. 18 at 10 a.m. PST, and guests can officially register now at www.Sephoria2021.com.