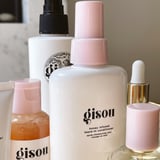 I recently visited the salon for a haircut, and against my better judgment decided to "tone" my hair to a darker brown, and the results were . . . disastrous. I hadn't colored my hair in over three years, so doing so was a little out of the ordinary for me, but I decided to go for it anyway. Unfortunately, as previously mentioned, things didn't turn out as planned. My hairdresser ended up toning it way too dark - almost black. I hated the color as soon as I left the salon, but I knew outside of stripping it and possibly damaging my hair even further, there wasn't much I could do about the color besides try to fade it with frequent washes.
Although I usually only wash my hair twice a week at max, I've been doing it almost every day in an attempt to fade the dark color back to my original light brown. Because of this, I was definitely expecting to undergo some major damage, but I've been using one product that has singlehandedly saved my hair: Gisou's new Honey Infused Leave-in Conditioner ($34).
I've been a fan of Gisou products for a while; I'm obsessed with their insta-famous hair oil as well as their honey-infused hair mask. Gisou was founded by influencer Negin Mirsalehi in 2015, and the brand has been creating amazing products ever since. Its newest product is infused with mirsalehi honey (honey from Mirsalehi's family bee garden), which aims to protect hair and repair it from damage. Key ingredients also include baobab extract, to strengthen and smooth ends while also protecting hair from UV and heat damage, as well as argan oil, which gives hair a healthy shine. To top it all off, the leave-in conditioner of course has the classic Gisou product scent, a tantalizing mix of honey and florals that leaves hair smelling fresh all day long.
I have dry, thin hair, and it's also extremely frizzy, so I tend to opt for lightweight products that won't weigh my hair down. While I typically only use leave-in conditioners when my hair is wet or damp, I found myself using this product a few different ways. I opted to apply two to four spritzes on damp hair after a shower; however, after my hair dyeing mishap, I started applying it on dry hair throughout the day to give my hair extra nourishment. Despite my initial hesitation, applying on dry hair didn't leave my hair feeling greasy or dirty. The formula is so lightweight that if it weren't for the amazing smell, I'd probably forget I was wearing it at all.
Since using Gisou's Leave-In conditioner, my hair has been so smooth, silky, and shiny, that I've honestly been shocked by the results. While I was expecting to deal with dry, stressed-out ends due to the dyeing and frequent washing, my hair has never looked better - even if it is the "wrong" color. The bottom line? Gisou's Honey Infused Leave-In Conditioner is a must-have for anyone looking to achieve healthy hair. It's the only leave-in conditioner I've tried that I feel comfortable applying on dry hair. While I do have other leave-in conditioners I love using, I'm obsessed with this product for its versatility and ability to protect and nourish my hair even after sustaining damage. And while I still don't love the color of my hair, I can rest easy knowing that my hair is in good hands with Gisou's Leave-In Conditioner.
Rating: