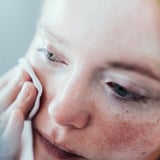 Sensitive skin is a term that gets thrown around all too often. The truth is that most people who claim to have this specific skin type actually don't. "It's an overused phrase," said Elizabeth Tanzi, MD, dermatologist at Capital Laser & Skin Care in Washington DC. "[People] may be overusing their products, leading to irritation." Skin is also more prone to irritation in the cooler months, so don't take a reaction to the frigid temperatures as a red flag for skin sensitivity.
So how do you know if you do actually have sensitive skin? There are a few tests you can give yourself. "Brush your fingers across the side of your face with light to medium pressure," celebrity facialist Joanna Vargas said. "If the skin turns red, it's sensitive."
If you have a deeper skin tone that doesn't show red so easily, though, Dr. Tanzi has an equally simple tip for uncovering if your skin has a sensitive disposition. "You know you have sensitive skin if the majority of the products you place on your skin cause stinging or redness," she said. This includes everything from face washes and moisturizers to foundations and blushes.
Understanding whether or not you truly have skin sensitivity is the first step in perfecting your skin-care regimen. So if you haven't quite had that healthy glow you've been dreaming of, perhaps now you'll be a few steps closer to achieving it.